Skin Diseases- Types And Identification On The Body.
Skin diseases are those diseases that affects the healthy condition and look of the skin. Whenever you have any skin reaction or disease, make sure that you visit a dermatologist for proper examination of the skin and treatment.
LIST OF SKIN DISEASES
This skin disease are tiny bumps or sores with much itching; first, between the fingers, on the wrists or the waist.
INFECTION FROM BACTERIA
Pimples or sores with pus or inflammation, often from scratching insect bites. May cause swollen lymph nodes.
IMPETIGO (Bacterial Infection)
This is an irregular spreading of sores with shiny yellow crusts.
ACNE, PIMPLES, BLACKHEADS
Pimples on young people's faces, sometimes chest and back, often with small heads of pus.
This a small bump which becomes a crusty sore, usually on the face or limbs. This may take months to heal.
ULCERS FROM BAD CIRCULATION (Possibly Diabetes)
This a large chronic unhealing sore surrounded by purplish skin, on or near the ankles of older people with varicose veins.
These are sores over the bones and joints of very sick persons who cannot get out of bed.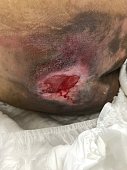 These are sores with loss of feeling on any part of the body, it could be on the hands or feet. They do not hurt even when pricked with a needle.
ABSCESS OR BOIL
This is a warm, painful swelling that occasionally breaks open on the skin.
MASTITIS (Bacterial infection) POSSIBLY CANCER
This is a warm painful lump in the breast of a woman that is breast feeding.
CANCER (Lymph Nodes)
This is a lump that keeps growing. Usually not painful at first.
RIVER BLINDNESS (Lymph Nodes)
You can see one or more round lumps on the head, neck or upper body (central body and thigh).
SCROFULA (a type of tuberculosis)
Nodes on the side of the neck that continuously break open and scar.
VENEREAL LYMPHOGRANULOMA
These are nodes in the groin that continuously break open and scar.
PELLAGRA (a type of malnutrition)
Here, you will see scaly, cracking areas that looks like sunburn on the arms, legs, neck or face.
Patches are found on the lower legs, other areas on the body thickened to look like orange-skin or wrinkled like the skin of an old man or woman.
ECZEMA
These are patches with blistering and peeling on cheeks, both arms or both feet.
MONILIASIS, THRUSH (Yeast Infection)
This is clearly edged patches in the skin folds, sometimes with with white milky curds.
ABSCESS OR SPREADING INFECTION
Swollen area with pain and heat in any part of the body.
TINEA VERSICOLOR (Fungus Infection)
This is skin disease shows areas of slight color loss on the face, neck or chest. Skin surface otherwise normal; not numb.
EARLY OR BORDERLINE LEPROSY
These are patches of part color loss on the face, body, buttocks etc. Maybe numb but often not.
A LATER STAGE OF ONCHOCERCIASIS
This has spotty, part color loss on the front of the legs (leopard skin).
VITILIGO
Clearly edged areas of complete color loss on the body, hands, around the mouth or between the legs.
Lighter patches due to peeling with swelling of the legs and arms. Brown hair.
ALLERGIC REACTION
Very itchy rash, bumps or patches. (They may appear and disappear rapidly).
COMMON WARTS (Virus Infection)
This can be found may be on the foot, simple wart and not very large.
A TYPE OF TUBERCULOSIS OF THE SKIN
This is a very large warts that is more than 1 cm, it is often on arms and feet.
RINGWORM (Fungus Infection)
These are small rings that continue to grow or spread and also may itch.
ADVANCED STAGE OF SYPHILIS
Rings (spots with raised or red edges, often clear in the center). There are large circles with a thick border that do not itch.
CANCER OF THE SKIN
There are small rings, sometimes with a small pit in the middle, found on the nose or neck.
CONTACT DERMATITIS (Like poison ivy or sumac)
There are blisters with bumps and much itching and weeping (oozing).
CHICKENPOX
These are small blisters and spots all over the body, starting from the face down to the feet.
HERPES ZOSTER (Shingles)
This is a patch of painful blisters that appears only on one part of the body, often in a stripe or cluster.
GAS GANGRENE (Very Serious Bacterial Infection)
A gray or black bad smelling area with blisters and air pockets that spread on the body.
MEASLES
This is a small reddish spots or rash over the whole body. A rash that very sick children get all over the body. It starts on the face, as a roughening of the skin surface, then spreads to the trunk and limbs.
After a few days of fever, a few small pinkish spots appear on the body; meaning that the person is very sick.