Animals That Were Rediscovered Many Years After People Thought They Were Totally On Extinction-photos.
The Global Wildlife Conservation has made a considerable progress in its search for what it tagged most wanted lost species.
– Some of them have eluded rediscoveries for decades before they were found between 2019 and 2020
– Jackson's climbing salamander and silver-backed chevrotain were some of the animals that were rediscovered
Within years that Global Wildlife Conservation (GWU) notified the public about "25 Most Wanted" lost species, five of them have been found.
The five rediscovered species were Jackson's climbing salamander, Wallace's giant bee, velvet pitcher plant, silver-backed chevrotain, and Somali sengi.
The last time one of them was seen goes as far back as the early 1900s. Below is, therefore, details of the 'found' flora and fauna:
1. Jackson's climbing salamander
According to Good News Network, the salamander was the first on the list to be found, and its rediscovery was totally accidental. It even happened before the GWU launched a search for it.
It was found by a guard, Carlos Vasquez, of Finca San Isidro Amphibian Reserve. The guard said that finding it was a moment of personal joy for him
2. Velvet pitcher plant
Last seen in 1918, its rediscovery happened in 2019 at the slopes of the mountain called Kemul. It is part of the world of carnivorous plants.
It was described as the "most remote, last-remaining large patch of the true wilderness in Borneo".
3. Wallace's giant bee
The last time it was seen before its rediscovery in 2019 was nearly 40 years ago in 1981. When Bolt found it in Indonesia, he is said that it was such a beautiful moment coming across it.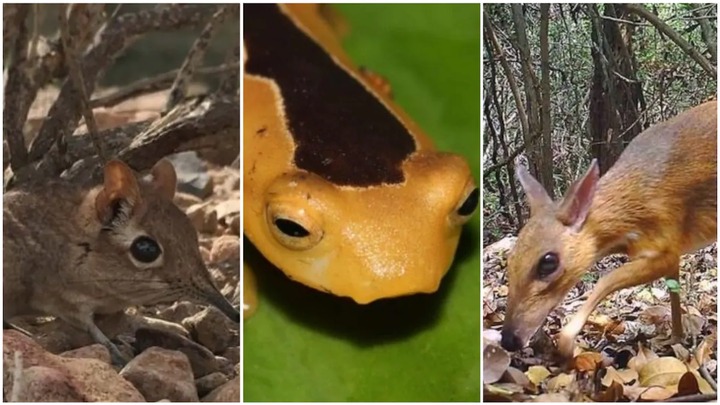 A collage showing three of the found animals. Photo source: Good News Network
.
4. Somali sengi
Also known as the tiny elephant shrew, it was the first African animal found on the list. Last seen in 1968, the expedition for that was launched for it last year found the animal in 2020.
5. Silver-backed chevrotain
Scientists know almost nothing about the conservation status of this species, making it one of the highest conservation priorities in the Greater Annamite Mountains of Indochina.
Using local knowledge, the GWC-backed research team was able to locate it with camera traps among other tools.
Meanwhile, Bioreports earlier reported that a mother gorilla gave birth to an infant at Bristol Zoo Gardens in England, a good development to the endangered species.
Known as Momma Kala, the birth of its baby was said to have happened overnight as the daddy called Jock and other family members were some meters away.
The birth is an addition to the already six gorillas at the England zoo which are part of a breeding arrangement to ensure the future of the animals.